The 1st Event Network Construction Project.
We had a cooperation opportunity for Japan Network Information Center(JPNIC) on Nov, 19-22 which JPNIC held "Internet Week 2012″ at Akihabara. Thank you for giving us that kind of opportunity.
In the event, the 2 students of ICTEPC member school helped with infrastructure construction.
They were engaged earnestly in network construction and user support.
The report of participation student

NIHON KOGAKUIN COLLEGE / Takahiro Kanai

ASO BUSINESS COMPUTER FUKUOKA COLLEGE / Kazuhiro Hattori
Work scenery of the day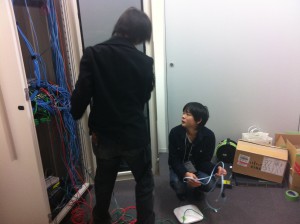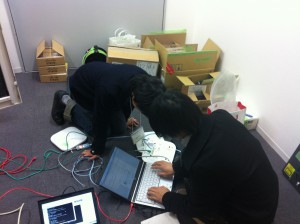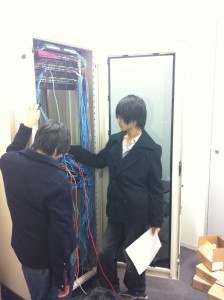 Outline
Application period
Oct, 17-28 2011(Participant decision Nov,4)
Activity place, preparations
Japan Network Information Center
Activity place, during period
FUJISOFT AKIBA PLAZA
Schedule and Operation plan
Nov, 24 or 25 : Equipment setting at JPNIC.
Nov, 28 in the morning : Equipment carry in.
Nov, 29 – Dec,1 : Helpdesk and User support.
Dec, 2 16:00~ : Equipment carry out.
Dec, 5 13:00 – 15:00 : Equipment setting deletion at JPNIC.
Others
・travel expenses are own expence.
・By the kindness of JPNIC, the participation students can received a paid session.
・JPNIC prepare a lunch during period.
・After this event, you should answer the questionnaire and you should submit a report.